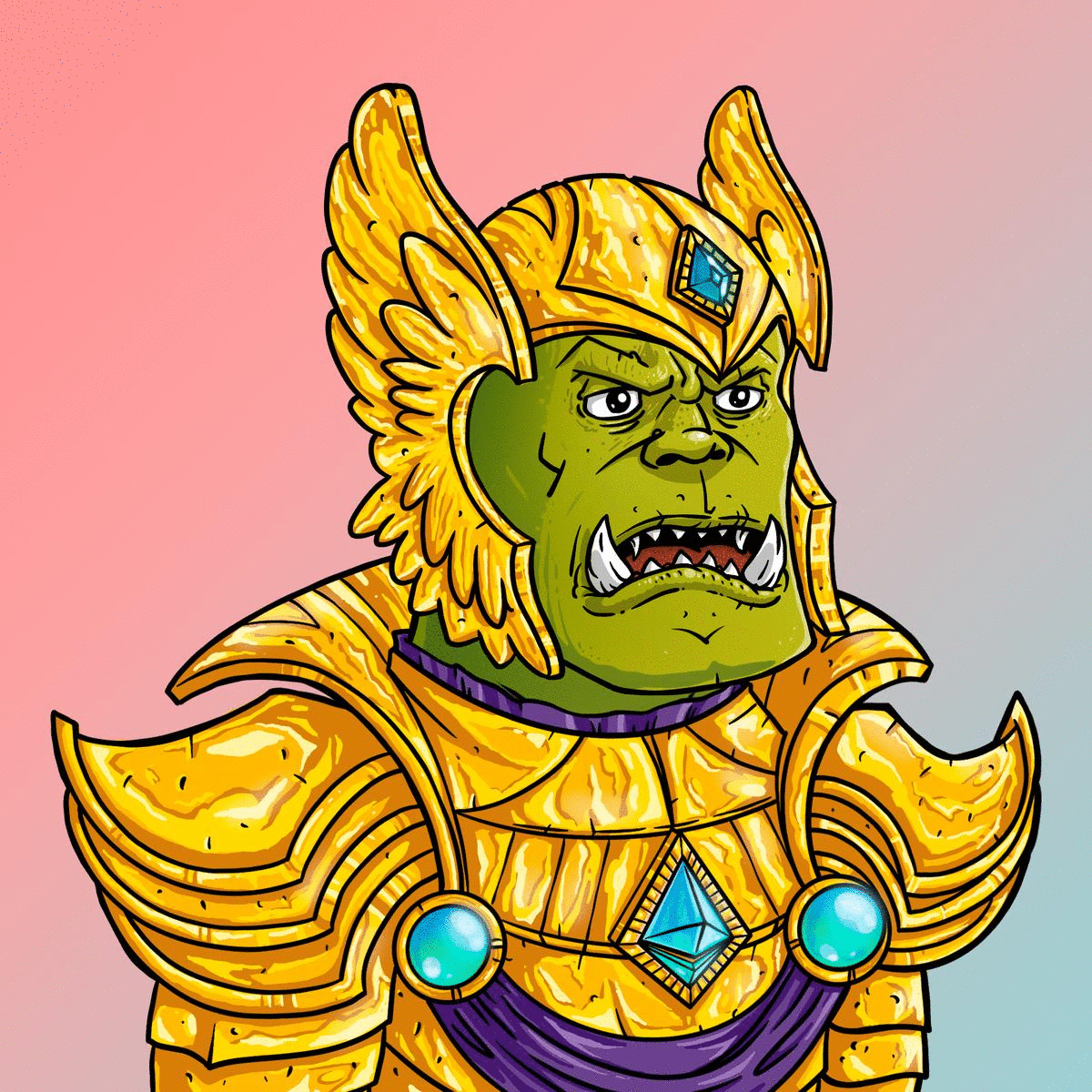 Battle Other Owners.
Win Ethereum.
Introducing ORCZ:


The ORCZ faction are storming the gates of Ironstone to join the battle against the Goblin Goons and Ghost Goblins.

Beginning mid-September, owners can join The Battle For Ironstone by holding either a Goblin, Ghost or ORC (releasing August 31st).

Owners can fight each other in head-to-head battles to win a share of ETH from secondary sale royalties. Losers miss out on a chance to win ETH but their NFTs live to fight another day.

One NFT = One Entry to The Battle For Ironstone



Existing owners that hold either a Goblin or a Ghost can mint 1 ORC for free on release day.
8800 ORCZ

are joining the battle for

0.04 ETH each

.
ORC #6551


Rarity Rank: #961
Owner: TurtleHaze
Goblin Goon #4125


Rarity Rank: #1427
Owner: MarkyMark
Owners receive 1 entry for each warrior they own (Goblins, Ghosts or ORCZ).

For example, if an owner holds 25 warriors, they receive 25 entries to the battle. There is no limit to the amount of warriors each owner can enter.

The Battle For Ironstone will begin 2 weeks after ORCZ release. Owners can join the battle by connecting their Metamask to the Goblin Goons Lair website and pressing 'Enter'.

Joining the battle is completely free and doesn't require any gas fees because it takes place off-chain.

A new battle season starts every 2 weeks and owners can re-enter their warriors to win a share of the new prize pool.
Every warrior has at least a 25% chance of winning. However, some warriors are stronger than others and have up to a 75% chance of winning.
Our proprietary algorithm uses each warrior's rarity ranking to determine its win probability. The ranking of each warrior is very similar to its rank on Rarity Tools.

Each warrior is randomly matched with 3 opponents. The winner of each battle is decided by a combination of chance and rarity ranking.



Day 1-9

- Owners can enter the battle




Day 10

- The battle takes place




Day 11-13

- Owners can view their battle history and raffle entries




Day 14

- Raffle winners are sent ETH





Warriors who beat all 3 of their opponents are entered into a raffle to win a share of secondary sales royalties. Raffles take place every 2 weeks and 100 winners are randomly selected.





The ETH generated from the 7.5% secondary sale royalties of the 3 collections will be divided and sent to each winner's wallet.





10%

- Battle For Ironstone Prizes




3%

- Community Wallet




2%

- Development Team







For example, if the Opensea volume for the 2 week period is 300 ETH, the 100 winners would share 22.5 ETH ( 7.5%).

Each winner would receive 0.225 ETH




Free ORC Mint For Existing Owners
Owners who mint ORCZ on release day are eligible to receive 0.04 ETH if they already own a Goblin or a Ghost.

This refund allows existing owners to mint their first ORC for free. Owners receive 1 refund per wallet and must hold their Goblin or Ghost on release day.

This offer applies to the 1493 unique wallets that owned a Goblin or a Ghost on August 20th.

The list of eligible wallets that qualify to receive 0.04 ETH has been finalized and can be viewed on the Goblin Goons Discord server.
How to claim your free ORC mint



1. Mint at least 1 ORC on release day

2. Share your Opensea account in the #orc-minting Discord channel

3. Your wallet will receive 0.04 ETH after being confirmed to be eligible.
ORCZ Rarity and Attributes
Skin: Lava (3%)
Mouth: Steam (2%)
Eyes: Red Lazers (1%)
Headwear: Small Mohawk (6%)
Body: Battle Axe (6%)
Background: 3 (4%)



8800 ORCZ have geared up to join The Battle For Ironstone and are determined to be declared the winners. ORCZ feature completely new attributes and rarities.

Each ORC features 6 traits:
Skin, Eyes, Mouth, Headwear, Body and Background.

There are over 110 attributes in total and comprise of a range of rarities, including ultra-rare traits that have a very low mint chance.

ORCZ release August 30th
Skin: Zombie (3%)
Mouth: Angry (6%)
Eyes: Goggles (2%)
Headwear: Glowing Crown (1%)
Body: Black Cape (2%)
Background: 6 (4%)